Start Your New Life Together in One of Our Romantic Honeymoon Cabins
June 6, 2018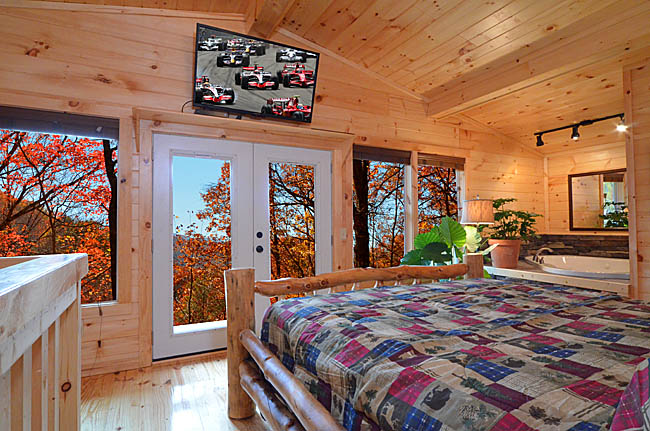 If you've just tied the knot, congratulations! Now it's time to embark on your honeymoon, and what could be more intimate than a secluded cabin sized just for two in the stunning Smoky Mountains? We've created a list of some of the most amazing honeymoon cabins in our inventory to give you an idea of just what's possible.
A View for Two
One of the cabins in the Smokies sized perfectly for just two people, A View for Two lives up to its name. In fact, it offers some of the most incredible views of all our honeymoon cabins. It features one bedroom and one and a half baths and has been completely remodeled. Relax in the morning with a cup of coffee on the deck right outside your bedroom (equipped with a king-size bed!), or while away the night on the included PS3 (with 10 games!). Soak in the indoor jacuzzi, or spend the night under the stars in the outdoor hot tub. Best of all, you get all the seclusion you need to enjoy your new life as newlyweds, but downtown Pigeon Forge is just minutes away.
Honeymoon Hideaway
Another of our stunning honeymoon cabins, Honeymoon Hideaway delivers a beautiful setting and incredible views just outside Gatlinburg. This one-bedroom, one-bath cabin features a covered deck where you can relax, as well as a covered concrete patio. Wi-Fi is included, and there's a massive king-size bed on which to relax. Satellite TV, an outdoor grill, and a separate deck with a picnic table are all included. Spend some relaxation time  in the hot tub, or relax in front of the gas fireplace with your new spouse.
Splendor Oak
For those seeking cabins in the Smokies that offer the utmost in terms of privacy for your honeymoon, you can't go wrong with Splendor Oak. It's located at the end of the road in quiet Townsend, with incredible views out over the surrounding mountains and valleys. A single bedroom affair, this is one of the best honeymoon cabins for newlyweds thanks to the covered porch with rocking chairs, as well as the stack-stone gas fireplace. The ambience is incredibly romantic! Of course, staying in a cabin doesn't mean you have to rough it – there's central heat and air, and the cabin also includes a big-screen plasma TV and PS3 with 10 games if you need a break from soaking in the indoor jacuzzi!
Reserve Your Cabin Today!
These are just a few of the honeymoon cabins we offer – romance, mountain splendor and relaxation await. We invite you to visit Timberwinds Log Cabin Rentals to view more of our cabins in the Smokies.