'Oh My'! The Perfect Pigeon Forge Cabin for Your 3 Day Weekend
November 24, 2017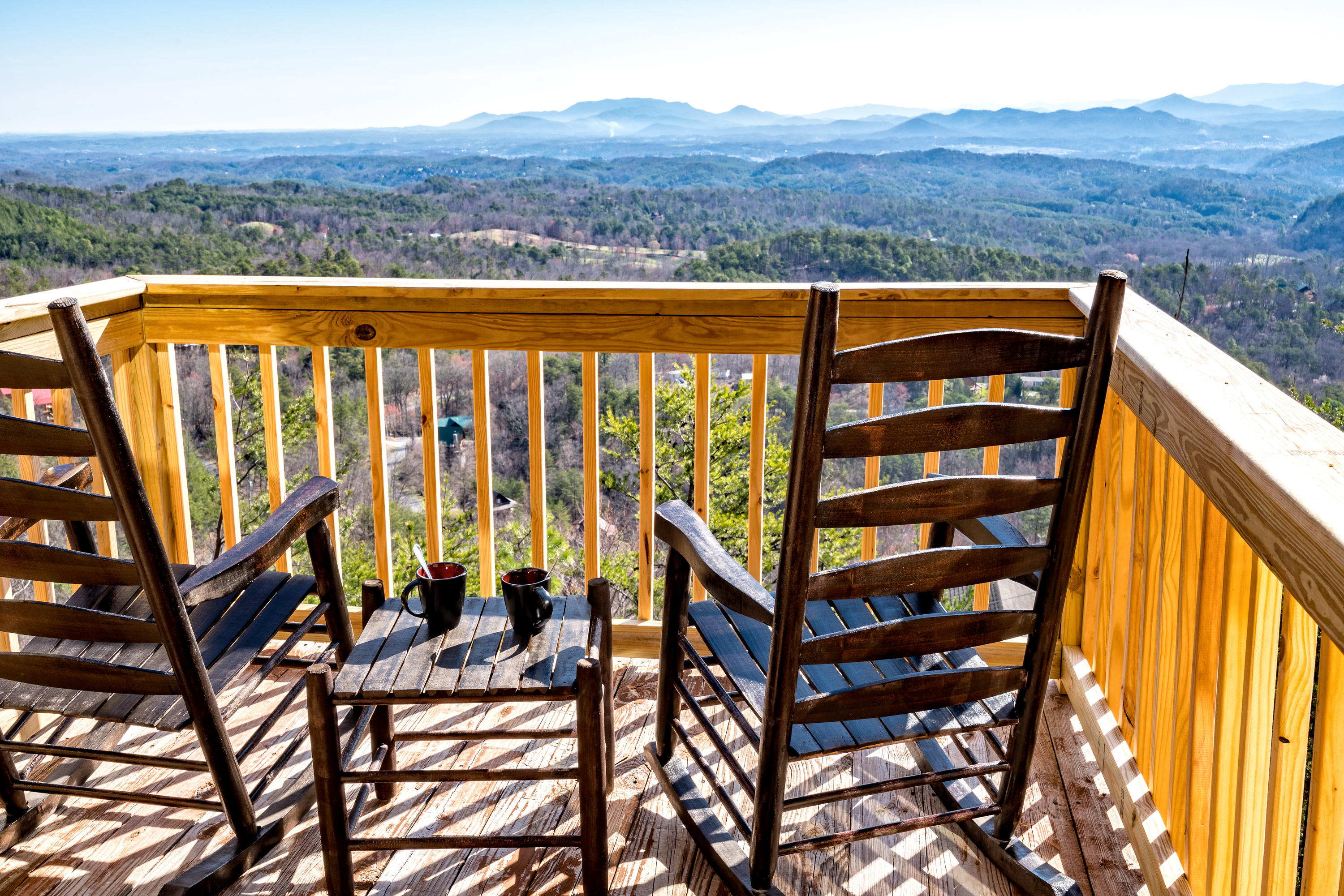 November has a 3-day weekend in it – the perfect time to plan a quick getaway to the Smoky Mountains. Head to Pigeon Forge or Gatlinburg, TN, for your escape. With attractions, entertainment, fall festivals, unique shops, and great dining, you're sure to have a good time here.
Perfect Accommodations
If you're looking for the perfect Gatlinburg cabin rental for your 3-day weekend, look no further than Oh My, a beautiful cabin by Timberwinds Log Cabin Rentals. It has everything you need to make your stay not only convenient, but comfortable and…dare we say it…luxurious, as well. Take a look.
Scenery to Die For
Oh My is perched on the side of a mountain and offers magnificent mountain vistas for as far as you can see. This 2 BR, 2 BA Pigeon Forge cabin offers Smoky Mountain views you'll have to see to believe. Two decks give you a choice as to which elevation you view the mountains from. Rocking chairs and a glider built for two call you to sit and rest a while. Maybe take a cup of tea with you, and sip on it as you take in the view. If you get ambitious, there's a charcoal grill on  the lower deck. Grill up something for dinner. Or if you're feeling lazy, take a dip in the outdoor hot tub. Life doesn't get much better than this!
Modern Comfort, Too
Inside you'll find all kinds of amenities designed to make your stay in this Gatlinburg cabin rental comfortable and luxurious. Professionally decorated with lots of wood and stonework throughout, you may want to stay here longer than your 3-day weekend will allow! Large windows let in lots of light and bring the mountain scenery indoors. A stone fireplace warms it up a little, and the leather sofas invite you to get comfortable and stay awhile. A modern kitchen is both beautiful and functional, and gives you the opportunity to whip up a romantic dinner for two or breakfast in bed, if you choose. This Pigeon Forge cabin has a king- and a queen-sized bed; one bedroom is located in the loft. The heart-shaped Jacuzzi tub spices things up a little bit and flat-screen TVs in the bedrooms invite intimacy as you cuddle under the covers and watch a movie together.
You'll also discover that you have HD DirecTV, Blu-ray players, wi-fi Internet, a PlayStation 3 with 10 games, and a pool table here. What else could you possibly need to call this Pigeon Forge cabin home?
Stay Longer if You Can!
If you only have a 3-day weekend to come stay with us, that's fine. But if you can stay longer at Oh My, by all means, do it. You'll be glad you did. Call Timberwinds Log Cabin Rentals today to reserve your Pigeon Forge cabin, or reserve online before they're all full. Â And enjoy your long weekend!