A Couples' Vacation in the Smokies Is Extra-Special When It Has Amazing Smoky Views
July 25, 2018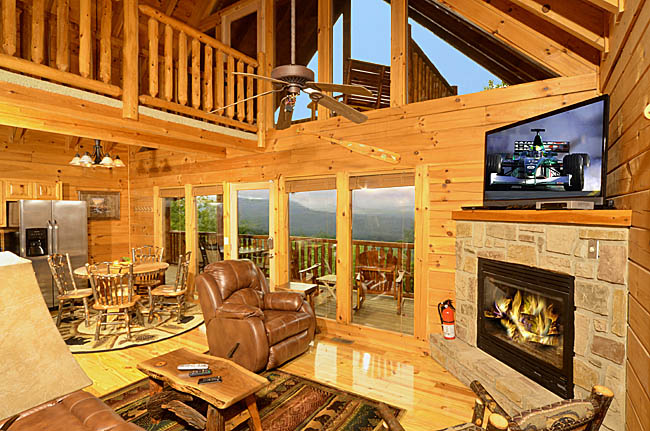 Welcome to Amazing Smoky Views, one of our premier cabins in Pigeon Forge that is simply perfect for a couples' getaway. Right away, you'll be drawn in by the stunning view that gives this cabin its name, which can be seen from all three of the covered decks. Each deck features comfortable furnishings where you can take in the view with your morning coffee or your evening glass of wine. But that's not all this amazing cabin has to offer!
Book Your Stay and Expect Luxury from our Pigeon Forge Cabins
Inside Amazing Smoky Views, you will find two bedrooms, along with plenty of space to stretch out and enjoy yourself. This cabin sleeps six comfortably, but is ideal for a pair of couples. Give each other plenty of privacy and still have room to hang out together in this gorgeous cabin. The private outdoor hot tub is big enough for four, and you can also enjoy the whirlpool tubs in the two full bathrooms – there's also an extra half bath!
Like many of our cabins in Pigeon Forge, Amazing Smoky Views includes plenty of modern comforts, like Wi-Fi, satellite TV, a fully equipped kitchen, laundry facilities, video games, and multiple big screen TVs. You can cook up your favorite foods on the grill or in the kitchen, hang out in the lounge, and pretend the rest of the world doesn't exist if you like! Bring your personal toiletries and food – everything else, from linens to cooking supplies, is provided.
Our Cabins in Pigeon Forge Offer Easy Access to Local Fun
We understand if you can't pull yourself away from the amazing view this cabin has to offer, but you'll still want to check out the nearby attractions. Pigeon Forge cabins are nearby all the fun things this area has to offer. Try a few local brews at the many distilleries, breweries, and wineries in the region. Check out a show at a comedy club, or find live music and karaoke all over the city. There are so many options for fine dining that you won't know where to start – we recommend one of the many famous dinner theaters, like the Hatfield and McCoy Dinner Show!
If you prefer to explore the great outdoors, the Smoky Mountains are the perfect escape. Take a driving tour through Cades Cove, or try a horseback tour through the national park. You can also try your hand at an aerial obstacle course, or just hike up to a waterfall and enjoy a romantic picnic.
Book Your Stay In Our Pigeon Forge Cabins Soon
Once you've had your day of fun, it's time to head back to your private getaway. Comfortable king-sized beds are ready to help you drift right off to sleep and do it all again the next day. Book your stay today!