Amazing Smoky Views: The Ultimate Pigeon Forge Cabin
November 10, 2017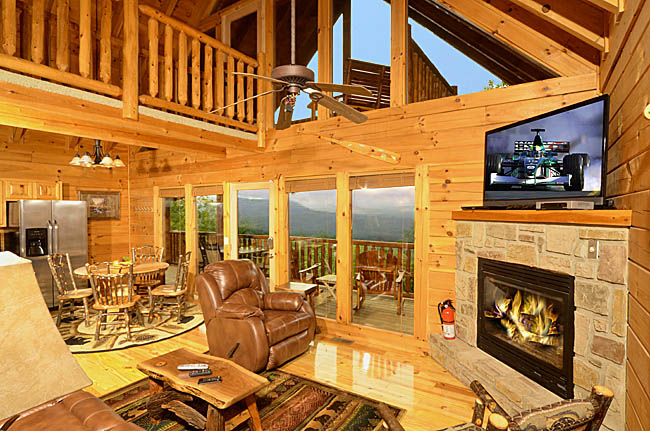 Looking for a Pigeon Forge cabin for your next getaway to the Smokies? Look no further than Amazing Smoky Views, offered for rent by Timberwinds Log Cabin Rentals. Located near all the things to do in Gatlinburg and Pigeon Forge, and with a view to die for, you won't find a better option for your fall vacation!
Panoramic Views
This amazing 2 BR, 2 BA Pigeon Forge cabin looks like it's glued to the side of the mountain. With 2 decks and a small private balcony, you'll want to spend hours enjoying the panoramic mountain vistas in front of you. Rustic chairs, gliders, a porch swing…you'll have no problem finding the perfect place to sit and enjoy the fresh air and the sounds of nature in this gorgeous space.
If it's not too chilly for you, dine al fresco on burgers cooked on the gas grill. There's a dining table and chairs on the deck. You'll even find an outdoor hot tub – perfect for soaking your cares away as you take in the scenery. What could be better?
Beauty and Convenience
Indoors you'll find everything you need to make your stay comfortable. A fully equipped kitchen gives you the option of fixing your own meals if you'd like. Or you can just brew up a pot of coffee each morning. Beautiful rustic-style furniture, a stone fireplace in the corner, and large windows really make this Pigeon Forge cabin stand out. Both bedrooms have king-sized beds and feature whirlpool tubs. It's kind of like staying in your own spa!
While you're here, you'll enjoy modern conveniences like wireless Internet service and satellite TV. Do a load of laundry if you must – but try not to. After all, you're on vacation!
This cabin is also full of entertainment options: DVD and VCR players, 3D TVs, an Xbox 360 with games, and a pool table provide options for evening activities during your stay. Challenge each other and have fun. And take time to appreciate the most unique feature of this cabin – the catwalk that connects the game room to the small private balcony. What a treasure!
When You're Not at the Cabin…
Pigeon Forge and Gatlinburg have tons of attractions and entertainment options to keep you busy while you're here. In Pigeon Forge, visit Dollywood, the Titanic Museum, or the Hollywood Wax Museum. Do some shopping or dining on The Island. Or drive down the road to Gatlinburg and visit the Aquarium of the Smokies or Ober Gatlinburg. Don't forget that you're in the heart of the Smoky Mountains. Take at least a day to explore Great Smoky Mountains National Park. Hike, fish, look for wildlife, or discover waterfalls. It's all here for you!
This is the Pigeon Forge Cabin for You!
Amazing Smoky Views is the perfect Pigeon Forge cabin for your fall adventure. And with so many things to do in Gatlinburg and Pigeon Forge, you'll have the time of your life! Call Timberwinds Log Cabin Rentals today to make your reservation, or reserve online. We'll see you soon!