Private Yet Convenient Downtown Gatlinburg Cabin Rentals: Little Wing
August 11, 2017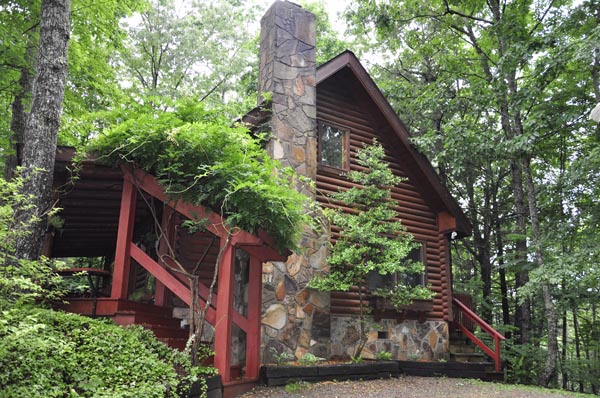 Are you looking for a relaxing getaway for just a few people? If you are, then look no further than Little Wing, one of Timberwinds Cabins most special retreats. It's a great getaway that's nestled in the woods, yet very close to downtown Gatlinburg. When it comes to convenient downtown Gatlinburg cabin rentals, you won't do better than Little Wing. It's not exactly IN downtown Gatlinburg, but it's very close – mere minutes from downtown.
Stay at Little Wing: One of the Best Gatlinburg Cabins for Rent
Little Wing is operated by Timberwinds, and offers you all the amenities you expect, with two bedrooms featuring king beds, two full baths, a Jacuzzi, cable television, free phone service, an electric fireplace, and more.
If you want a cozy little getaway for you and one other, then Little Wing is perfect. If you want to bring more people along, though, Little Wing will sleep up to six people. Either way, you'll find yourself nestled in a forest environment that's just minutes from downtown Gatlinburg. You'll be tucked away in the Smoky Mountains, perfectly isolated, and yet just minutes from all the modern conveniences that you'll find in Gatlinburg. There's a lot to do in Gatlinburg, so be sure to take some time to venture into town, do some shopping, enjoy a meal in one of the many restaurants, or just wander about and perhaps strike up conversations with the locals.
Enjoy Nature
Imagine walking the forest in the summer months if you come during tourist season, or strolling through fresh snowfall and then snuggling under the covers of a king size bed if you choose to come in the winter. It's perfect either way.
Sweet tea on the porch in the summer, or hot cocoa in front of the fireplace in the winter – it's all good. In all seasons, you can keep company with the birds – jays in the winter, and nuthatches and swallows in the summer. Imagine falling asleep to birdsong every night, no matter what time of year you visit.
It's What You Make It
Even if all that matters to you is a bit of peace and quiet, you'll find it at Little Wing. In the summer it's the birds and the warmth. In fall, it's the brilliant leaves and the crisp air. In winter, you can stroll snow-covered paths, and come back to your cabin for a cup of hot chocolate. And spring – oh, spring! We can't even begin to describe it, so you'll just have to come and see!
Of course any time of the year you can also enjoy the local attractions. In the off-season, you'll find that our rates are lower, but we still encourage you to book early. The Smoky Mountains are a very popular destination at almost any time of the year, and even during the off-season, you might not always have your first choice of Timberwinds Gatlinburg cabin rentals. We'll do our best to accommodate you, but early booking is always advised.
Visit Us
Whatever time of year you choose to visit Little Wing, you'll be assured of a great stay.  Timberwinds invites you to book this charming cabin or any of our other Gatlinburg cabins. We look forward to seeing you!