Make Little Wing Your Gatlinburg Cabin Retreat
October 27, 2017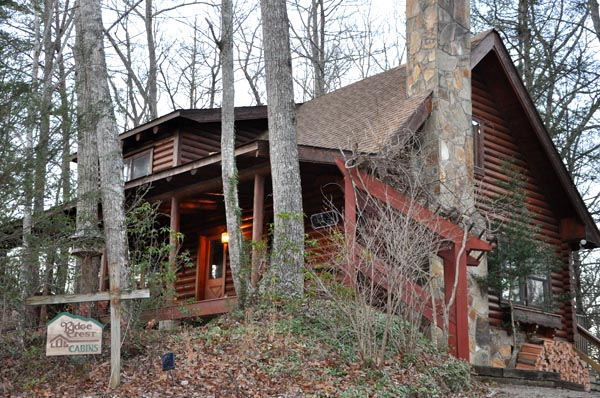 There are many Gatlinburg cabin rental companies that are easy to work with and offer exceptional customer service in Pigeon Forge and Gatlinburg, TN. And there are a lot of nice cabins in the area. But we're partial to those cabins offered by Timberwinds Log Cabin Rentals. They have some of the most amazing cabins on the market and the folks at Timberwinds are just plain nice to work with.
If you're looking for a cozy place to stay for your next fall retreat in Gatlinburg, you can't go wrong with Little Wing by Timberwinds Log Cabin Rentals. We guarantee you'll love all it has to offer!
Charming Forest Retreat
Little Wing is an adorable 2 BR, 2 BA Gatlinburg cabin rental that's perfect for up to six people. But it's better with just two! Nestled into the woods, you'll have gorgeous views of the fall leaves outside, and the view of Mt. Le Conte is spectacular from the large covered porch. Have a seat in one of the rockers and stay for a while. This is the perfect retreat from your hectic everyday lives.
Beautiful stained glass windows throughout provide colorful views on the inside of the cabin, as well. Watch the sunlight play off the walls as it hits the stained glass. In the evenings, you and your loved one will enjoy the warmth and comfort of the electric fireplace in the living room. Cuddle up with blankets and watch your favorite movie or TV show. Cable service and a DVD player are standard fare in this comfortable Gatlinburg cabin. You might decide to cook a romantic dinner for two in the modern, fully equipped kitchen. Or grill a couple of steaks on the charcoal grill instead. After dinner, pop open a bottle of wine and head for the indoor Jacuzzi tub to soak your cares away. Or choose the ambience of the outdoor hot tub on the covered porch instead. Anything is possible in this magical cabin!
Convenient to Downtown Gatlinburg
If you need help figuring out what to do during the daytime hours, this cabin also has high-speed Internet service. Surf to your heart's content and you'll find that there are so many things to do while you're in the area, you probably should have planned to stay a little longer! Little Wing is located just minutes from downtown Gatlinburg, and close to the Arts and Crafts trolley stop, so getting into town to visit the attractions is a snap.
Book Little Wing for Your Next Gatlinburg Retreat!
Little Wing is the perfect Gatlinburg cabin for your next Smoky Mountain retreat, so book now, before it's too late. If you wait too long, it may not be available when you need it. If you miss it, don't worry. Timberwinds Log Cabin Rentals has many other Gatlinburg cabin rentals in the area. Perhaps one of them will be just as perfect for your next stay here!