Feel "Abundantly Blessed" in this Gorgeous Pigeon Forge Cabin
October 6, 2017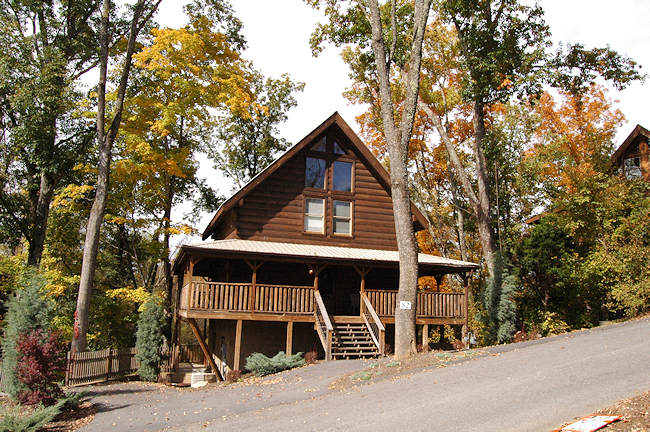 There are many cabins in Pigeon Forge, TN, that are very comfortable and beautifully decorated. Most of them have decks (sometimes more than one), and great views of the Smoky Mountains. But there's one Pigeon Forge cabin that truly stands out among the rest, and you'll feel abundantly blessed by the many options this great cabin offers.
More than Just a Place to Stay
Abundantly Blessed is a 3 BR, 3 BA log cabin located in Pigeon Forge, TN, offered by Timberwinds Log Cabin Rentals. This contemporary, spacious cabin is the perfect choice for a large family, or several families traveling together to visit Pigeon Forge this fall. Just look at all you get when you stay here!
Room for everyone: With 3 bedrooms and 3 baths, everyone will have the space they need for comfort and privacy. This cabin sleeps up to eight people comfortably. The three bedrooms are spread out on three separate levels, and all bedrooms have a king-sized bed and private bathroom. The bedroom on the upper level also has a Jacuzzi tub, perfect for relaxing after a long day of traveling. This cabin also has a sleeper sofa for extra guests.
Wooded Views: This Pigeon Forge cabin has two decks, complete with rocking chairs, a porch swing, bistro tables, and a 4-person hot tub. Enjoy the cool air and fall leaves from one of the decks or the hot tub while you're here.
Entertainment Options: This amazing cabin also features lots of entertainment options. The lower level has an entertainment room complete with theater seating, a huge plasma flat-screen TV, and Blu-ray DVD player. There's also a pool table, foosball table, and Playstation 3 with games. You'll have plenty of options for things to do in the evenings here!
Other Perks: This cabin in Pigeon Forge, TN, also has a spacious living area, flat-screen TVs with cable service throughout, a fully equipped kitchen, gas fireplace, wifi, gas grill, full-size washer and dryer, and parking on two levels. There's even a separate sitting area in the loft!
Perfect Location
This log cabin is located less than a mile from downtown Pigeon Forge, TN. You'll have fun exploring all the attractions this town has to offer. Dollywood is here, as is the Dixie Stampede, a unique dining experience centered around a horse arena. This is perfect for the kids since everyone eats here with their hands – no silverware allowed! Explore the shops on Pigeon Forge Parkway, visit the world-class Titanic Museum Attraction, or go hiking in Great Smoky Mountains National Park. There's so much to see and do here, you'll truly feel "abundantly blessed" by the time you're ready to head back to the cabin!
Book Now
Abundantly Blessed is a unique Pigeon Forge cabin just waiting for your group! Book your reservations now to make sure you get to stay here the next time you visit Pigeon Forge! Or check out any of Timberwinds Log Cabin Rentals' other cabins in Pigeon Forge, TN. Regardless of which one you choose, you'll love it here!