3 BR Cabins in Gatlinburg That Dreams are Made Of: Bear Creek Lodge
August 4, 2017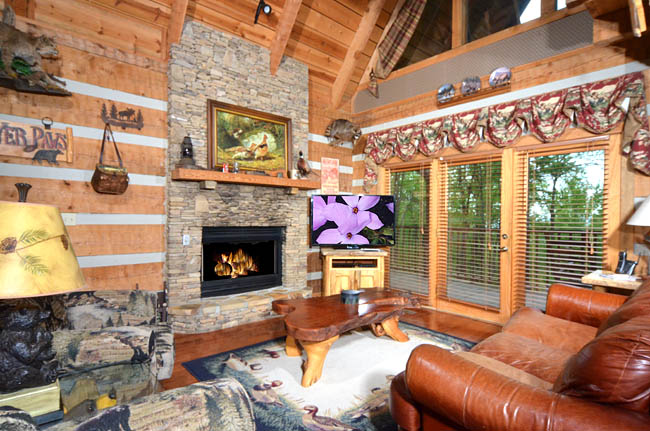 Come to Gatlinburg for the ultimate Smoky Mountains vacation! Are you contemplating a relaxing getaway in Gatlinburg? You need to find a cabin, and you can rest assured that there are many Gatlinburg cabins that will fit the bill. Many of the best are located at Timberwinds Cabins. Timberwinds offers non-smoking cabins with a full range of amenities, and one of our best cabins is Bear Creek Lodge.
One of the Best Cabins in Gatlinburg
When you stay at Bear Creek Lodge, you'll have everything you need for an unforgettable vacation. Each of the three bedrooms has a full bath, and access to private decks on both the upper and lower levels. The bedrooms also have indoor whirlpool baths and HD televisions. There are also two Blu Ray players available, and a pool table in the game room. The living area features an electric fireplace, and the gourmet kitchen is fully equipped with microwave, dishwasher and coffee maker in addition to the standard appliances.
Bear Creek Lodge is nestled in the Smoky Mountains, and if you wanted to, you could spend your entire vacation at the lodge without ever venturing off-site. However, there are so many things to do in Gatlinburg that we do recommend you take in some of the local attractions. Among other things, you can visit Dollywood and experience the Splash Mountain water park, or check out the many opportunities for shopping and fine dining along the Gatlinburg "Strip."
Beautiful Views and More!
When you stay at Bear Creek Lodge, you'll enjoy glorious mountain views in a wondrously peaceful atmosphere. There's little that can compare with an early morning outside on the deck, when the birds are just waking up and the sun is peeking up over the horizon. Unless, of course, it's a colorful sunset followed by twinkling stars in a place where pollutants that could cloud your view are quite simply unheard of.
Cabins in Gatlinburg like this allow you to enjoy the most comfortable accommodations imaginable! Spend cool evenings in the outdoor hot tub, or relax in the porch swing during the day. At night, you can snuggle up in a king size bed, and get a good night's sleep before continuing your Smoky Mountain adventure in the morning. You're always guaranteed a comfortable stay in Timberwinds Gatlinburg cabins.
It's Up to You How You Spend Your Time
When you stay in our Gatlinburg cabins, how you spend your vacation is up to you. You can stay on-site and just enjoy the peace and tranquility, or explore some of the attractions Gatlinburg has to offer.
Your cabin can be the mainstay of your vacation, or the place that you go back to after a day of adventuring. Either way, you'll be assured of total comfort all the time.
Does it Sound Good?
If you think it does, then why not book your Timberwinds retreat now? Our cabins in Gatlinburg do fill up pretty fast, especially during the tourist season. So give us a call, and let us help you book the vacation of your dreams. Or you can book online today!