2 Cozy Pigeon Forge Cabins That are Perfect for a Fall Honeymoon
September 22, 2017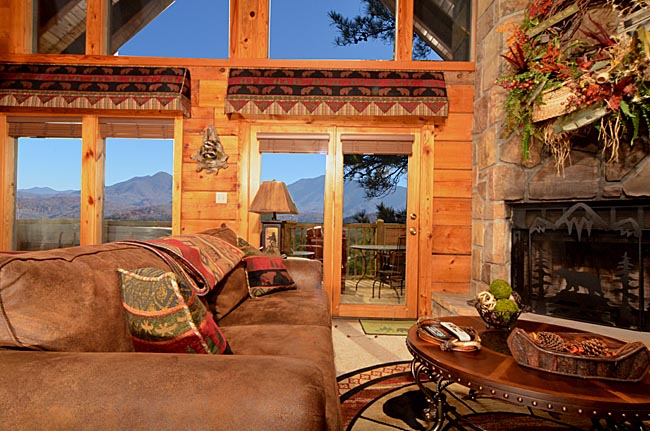 There's nothing like a fall wedding. The air is crisp, the leaves are starting to change colors, and you're celebrating the start of a new life with the one you love! Fall weddings mean fall honeymoons and nothing says "honeymoon" better than time spent away from it all in romantic Pigeon Forge cabins.
Lots to Do…But You May Not Want To!
Imagine spending time together, just the two of you. No responsibilities. Just relaxing and connecting with each other. Pigeon Forge, TN is the perfect place for a romantic fall honeymoon. There are plenty of fascinating and fun things to do in the area, but since you're on your honeymoon, chances are good that you'll want to hole up in a Pigeon Forge cabin and just enjoy being alone. In that case, you'll need a cozy and romantic cabin to help set the mood.
Designed with Romance in Mind
Check out these romantic Pigeon Forge cabins offered by Timberwinds Log Cabin Rentals. Either of these is a perfect option for your fall honeymoon and will lend itself well to your need for quiet relaxation after the whirlwind excitement of the wedding.
Wow!!!: This 1 BR, 1.5 BA log cabin in Pigeon Forge, TN is the perfect place to call your home away from home. It has everything you'll need to set the stage for romance while you're here. Beautiful hardwood floors, a stone fireplace and leather chairs greet you as you enter. A fully equipped kitchen gives you the opportunity to whip up a pancake breakfast for two. Brew your coffee and take it out to the covered porch to enjoy the mountain views from the rocking chairs or the porch swing. When evening falls, the two of you may want to spend time in either the outdoor hot tub, or the indoor whirlpool tub. Or perhaps step into the shower/sauna built for two and steam your cares away. Follow that up with a movie by the fire or an easy game of pool. The quietness of the location belies the fact that this romantic little cabin is only minutes away from downtown Pigeon Forge. So if you do decide to venture into the outside world, you're only minutes away from all the attractions.
Moonlight Vista: The minute you enter this 1 BR, 1 BA log cabin, you'll instantly know you've made a good choice. The large windows and raised ceiling provide an airy feel and gorgeous views of the surrounding Smokies nearly floor to ceiling. A stone fireplace stands in the corner as a sentinel and you'll be drawn in by the comfortable ambience in this Pigeon Forge cabin. It's full of amenities to make your honeymoon special: a deck with hot tub, rocking chairs and gorgeous views; an indoor Jacuzzi tub; gas grill; fully equipped kitchen; pool table; 2 plasma TVs with DVD player…everything you need to snuggle in and enjoy your honeymoon time together. Located close to both Pigeon Forge and Gatlinburg, you're tucked away in the mountains but still close enough in case you want to experience more of what this region has to offer.
Reserve Today!
The Smoky Mountains are the perfect place to spend your honeymoon and these romantic cabins in Pigeon Forge, TN by Timberwinds Log Cabin Rentals are perfect for your special occasion. Give them a call or reserve one online today to make sure you get the absolute best cabin for your honeymoon. And congratulations!